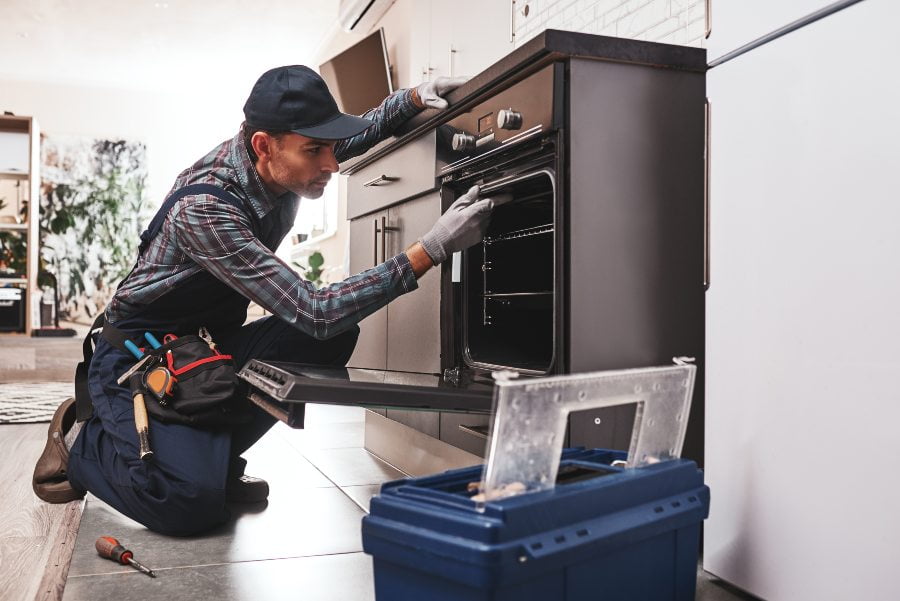 Appliance repairs for a variety of brands: Repairs you can trust
NO CALL-OUT FEE
ONE-OFF LABOUR/DIAGNOSTIC CHARGE.
SAME & NEXT DAY APPOINTMENTS
WE HAVE AVAILABLE TIME SLOTS IN LONDON AND KENT.
6 MONTHS GUARANTEE
PARTS & LABOUR GUARANTEE.
LOCAL BASED ENGINEERS
LOCAL BASED ENGINEERS WITH FULLY EQUIPPED VANS.
There are multiple quality, efficient and reliable appliance brands on the market today, giving you choice like never before. Whichever brand you have settled for, you've chosen among the best. Unfortunately, no appliance is perfect and with ongoing usage, wear and tear, it's likely to break down or malfunction. This is where the experts at Mix Repairs shine. We offer appliance repairs for brands, irrespective of make or model and we assure you of thoroughness and quality with our appliance repair service.
When you choose Mix Repairs as your trusted appliance repair service partner, you'll be assigned a professional domestic appliance engineer to carry out the job. Our engineers are well-known throughout the industry for their attention to detail, accuracy and efficiency. This means that you don't have to worry about your appliance breaking down or about having a poor quality job being carried out because our engineers are trusted and highly knowledgeable.
We put so much trust in our skilled professionals that we guarantee the quality of your repair service. That's right. With us, you get an impressive six-month guarantee on the repairs carried out to give you that added peace of mind, knowing you can rest easy that your appliance is in great working order.
Choosing Mix Repairs means choosing an industry leading appliance repair service provider that puts you first. We understand that repairs are often an unplanned cost and that's why our service is budget-friendly and affordable. With our free quotes, you can easily get your service estimate and take full advantage of a leading appliance repair provider that also offers you a service that's fully insured.
Get in touch with us today by giving us a call or by booking online. We are here for you every step of the way, ensuring your peace of mind with quality repairs, thoroughness, accuracy and attention to detail. Whether you need washing machine, dishwasher, tumble dryer, electric oven and cooker repair, fridge and freezer repair or anything in between, our service coverage includes a broad portfolio of brands such as Baumatic, Beko, Bosch, Electrolux, Elica, Hotpoint, LG, Miele, Samsung and more.
Local domestic appliance engineers in London and Kent approved for many leading manufacturers and brands
Are you looking for a reliable appliance repair service provider that's local and close to you? You've come to the right place! At Mix Repairs, our extensive range of services covers a broad portfolio of appliance brands and manufacturers, meaning that we can help resolve your appliance repair needs with ease, speed and efficiency. When you choose us as your appliance repair service provider, you'll be assigned a local appliance technician that comes with extensive experience and is highly knowledgeable in many appliances, including new and emerging models, for your guaranteed peace of mind.
Choosing Mix Repairs means that you can take full advantage of local domestic appliance engineers in South London and Kent who place a guarantee on the quality of your repair job. In fact, we strive to meet our customers' demands and offer a six-month guarantee on our repair work. In addition to this, our service is fully insured, meaning greater peace of mind for you.
With our affordable local service near you, you will always have satisfaction guaranteed irrespective of the type of appliance you have. From washing machines and tumble dryers to fridge freezers and cookers or ovens, we've got you covered. We are also highly skilled in repairing a broad range of appliance brands so that you can rest assured and enjoy quality and service satisfaction.
When you're searching for electrical appliance repair near me, choose a local service provider that covers North, East, West and South London and Kent with areas that also focus on Croydon, Bromley, Dartford, Brixton, Maidstone, Sittingbourne and Tonbridge. Get in touch with us for your free quote and affordable, budget-friendly appliance repair service today. Simply give us a call or book your appointment online. We also help with emergency repairs so that you can rest assured your issue is resolved as swiftly as possible.
Our Google Reviews:
---
They were outstanding. We had the best technician I have ever seen. If you ever need washing machine repair just call them
Perveen Mohammed
2023-06-11
Very efficient. I just made one call for an appointment, and everything was sorted within 24 hours.
Richard Harding
2023-02-16
I booked an engineer yesterday and I was surprised to get one so quickly. The engineer arrived and he was well presented, polite and knowledgeable. He found the problem quickly and explained it clearly. I had to leave as i was taking my wife and son to a doctors appointment. I felt very comfortable leaving him alone in my house. He kept the area clean and tidy and tidied as he went. I would use them again and would recommend them highly. My engineer was Simona Stoikova.
Simona was super helpful on the phone and gave me all the information quickly and was really friendly. George who repaired my dryer worked really quickly and did a great job. Would defiantly use again.
This is the second time that I have used this company and I am delighted with the result. Everything was explained clearly and the engineer was able to resolve the problem on the first visit.
Good engineer 👍
Really happy with the service provided today. The engineer came on time and sorted out the problem with my fridge. He even fixed the hinges (which I did not realise were causing a problem) and gave me advice on how to defrost the freezer and what setting to keep the freezer on. Would reccomend to anyone for a reliable and trustworthy company.
Why Choose Mix Repairs Appliance Services?
When it comes to reliable appliance repair, Mix Repairs stands out as a top choice. Trusted by leading manufacturers, we bring over 15 years of expertise straight to your doorstep. Our commitment to quality is evident in our six-month parts and labor warranty, ensuring peace of mind with every repair. Based in South London and Kent, we offer the convenience of same and next-day appointments to fit your busy schedule. What's more, our local engineers are not only highly skilled but arrive in fully equipped vans, ready to tackle any issue on the spot. Enjoy the added benefit of free quotes and the assurance of no hidden call-out fees. Choose Mix Repairs for a seamless, trustworthy, and efficient repair experience. Ready for hassle-free, expert service? Book a repair service with us today!
6 Months Guarantee
All our repairs come as standard with our six months parts and labour guarantee.
Fully Qualified Engineers
Team of fully qualified and regularly trained engineers
Affordable Prices
Unbeatable price list designed for all customer needs.
Local Engineers
Local based engineers with fully equipped Vans
Fully Guaranteed & Insured
We are fully insured for public liability and employer's liability.
Same and Next Day Appointments
We have available time slots in all London and we can be with you on the same day.