6 Months Guarantee
All our repairs come as standard with our six months parts and labour guarantee.
Affordable Prices
Unbeatable price list designed for all customer needs.
Fully Guaranteed & Insured
We are fully insured for public liability and employer's liability.
More than 15 years of experience
We have huge experience in the field. More than 15 years.
Local Engineers
Local based engineers with fully equipped Vans.
Same and Next Day Appointments
We have available time slots in all London and we can be with you on the same day.
Tumble Dryer Repairs in London & South London With a Quality Guarantee
A tumble dryer is an essential part of every modern home. These appliances supplement our washing machines by getting your clean clothes dry much faster than the traditional method allows. In many cases, modern tumble dryers are designed to be eco-friendly, quiet, energy efficient and fast, making them an indispensable part of our homes. However, when you have a malfunctioning or broken tumble dryer, you need a fast, reliable and affordable solution.
That's where we at MIX Repairs come in. We can help repair your tumble dryer in London expertly and efficiently with accurate diagnostics, precise repair work and all this at a time that's convenient for you. Most tumble dryer repair problems arise out of the blue and they are unexpected. But because we rely on them so much, these repairs also lead to potentially costly repairs that were unplanned for. With us, this is not the case because we offer you affordable rates with a free quote on your repair service to ensure you have greater peace of mind.
When you book your service with us, you can rest assured that your tumble dryer is in safe and capable hands. Our appliance repair technicians are highly proficient and well trained in all repairs that are related to tumble dryers.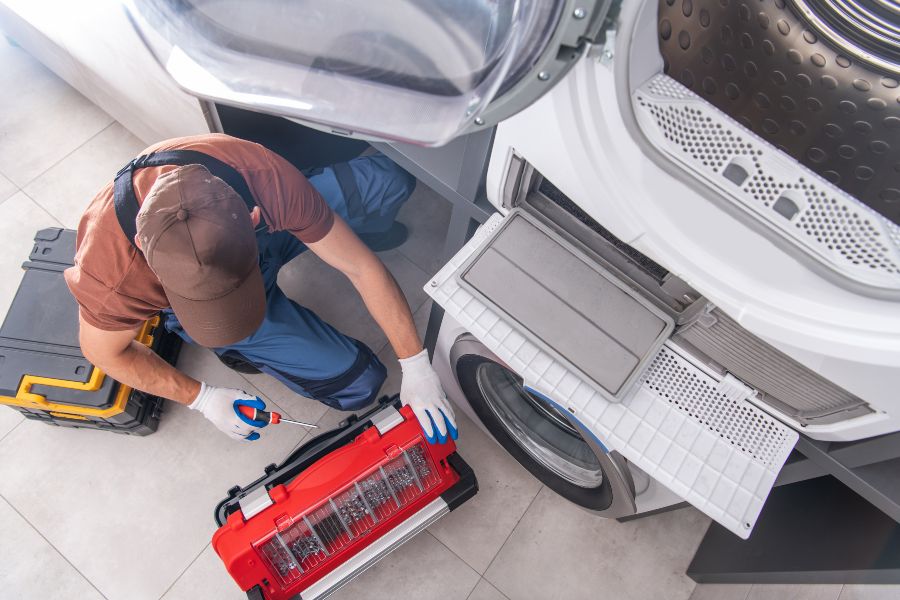 This means you get a high quality service that is backed by a six-month guarantee on faults and spare parts fitted, ultimately ensuring that you have greater peace of mind knowing that the longevity and functionality of your appliance will be restored and improved.
Let us repair your tumble dryer in South London  or any other part of London. Choose us for proficient technicians, our six-month guarantee, our same-day and next-day service appointment availability, free quotes and of course, the fact that we are trusted by manufacturers and that our service is insured in the event of any issues.
---
They were outstanding. We had the best technician I have ever seen. If you ever need washing machine repair just call them
Perveen Mohammed
2023-06-11
Very efficient. I just made one call for an appointment, and everything was sorted within 24 hours.
Richard Harding
2023-02-16
I booked an engineer yesterday and I was surprised to get one so quickly. The engineer arrived and he was well presented, polite and knowledgeable. He found the problem quickly and explained it clearly. I had to leave as i was taking my wife and son to a doctors appointment. I felt very comfortable leaving him alone in my house. He kept the area clean and tidy and tidied as he went. I would use them again and would recommend them highly. My engineer was Simona Stoikova.
Simona was super helpful on the phone and gave me all the information quickly and was really friendly. George who repaired my dryer worked really quickly and did a great job. Would defiantly use again.
This is the second time that I have used this company and I am delighted with the result. Everything was explained clearly and the engineer was able to resolve the problem on the first visit.
Good engineer 👍
Really happy with the service provided today. The engineer came on time and sorted out the problem with my fridge. He even fixed the hinges (which I did not realise were causing a problem) and gave me advice on how to defrost the freezer and what setting to keep the freezer on. Would reccomend to anyone for a reliable and trustworthy company.
Mix Repairs is a well known tumble dryer repair service provider in London & Kent.
Expertly Handled Tumble Dryer Repairs in Kent
Having your tumble dryer fail you is no fun at all. In fact, it's frustrating and it's an experience you don't want repeated all too soon. We rely on our tumble dryers to get our clean clothes dryer faster, especially in winter when the temperatures plummet. But does that mean that a faulty tumble dryer is something you have to live with? Instead of thinking about spending excessive amounts of money on purchasing a new one, you can now have your Kent tumble dryer repairs professionally done and at affordable prices.
With our tumble dryer repairs in Maidstone, you get a highly professional service that will leave you fully satisfied. In fact, we've been providing professional tumble dryer repairs for over 15 years, meaning that you can take advantage of our expertise and knowledge as we put this in practice to give you accurate diagnostics, professional repair work and of course, a quality guarantee that you can count on.
Having your tumble dryer malfunction on you can feel like a challenge. After all, these unplanned situations cost more money than you may have budgeted for. But with us at MIX Repairs, you don't have to worry. When you book your service with us, you get a free quote and you can avail of our affordable rates. That's because we recognise that these repair costs are often unplanned and unpredictable. What's more is that you can book an emergency service through our next-day or same-day appointment availability, meaning that you can have your problem repaired in no time.
So, for your Kent tumble dryer repairs don't hesitate to get in touch with us. We are a quick phone call away. And if you'd like to book your appointment online, we make that option available for you, too. All it takes is reaching out to contact us and we will ensure that you get the right diagnostics and precise troubleshooting for your peace of mind and satisfaction.
Why Choose Us:
Same day or next day service.
Service at the convenience of your home.
7 days service with live operator.
Competitive prices.
Fully licensed and insured.
Free estimates.
Quick response.
30 minutes call before arriving.
Experienced and fully equipped technicians.
We receive ongoing training from manufacturers.
Expert technicians stand 100% behind their job.
Guaranteed service.
Here at Mix Repairs, we take pride in offering comprehensive tumble dryer repair for all major brands. Our technicians are highly trained, fully insured and certified for your peace of mind and protection. We perform superb repairs and guarantee the quality of our work. We have been trusted by homeowners and landlords for the last decade and we provide a timely service and guarantee the job done right straight from the first time.
Tumble Dryer Repairs Prices:
Freestanding Tumble Dryer
£ 68.50 + VAT
No Call Out charge
One-Off labour/diagnostic charge
Six Months Guarantee
No Hidden charges
No Time limit
Parts Charged Separately
Integrated Tumble Dryer
£ 76.50 + VAT
No Call Out charge
One-Off labour/diagnostic charge
Six Months Guarantee
No Hidden charges
No Time limit
Parts Charged Separately
Common Tumble Dryer Problems That MIX Repairs Can Handle
Although there are so many different brands of tumble dryers on the market, with different makes and models, different functionalities and different designs, the primary operations functions are quite similar. This means that there are some common tumble dryer problems that we can help you with when you're facing such an issue. It doesn't matter whether you have a Miele, Siemens or any other brand of tumble dryer. Our expert technicians can help resolve the issues in no time and with professionalism as well as at affordable rates.
That's why if you need Bosch tumble dryer repairs in London & Kent or repairs of any other brand of tumble dryer, you can count on us. What's more is that our experienced technicians can help with a wide variety of issues you may be facing, including:
Tumble dryer is not working
When your tumble dryer has stopped working, this could be a result of a multitude of factors. These include power supply issues, the thermal fuse may have tripped or there are defective or worn out parts. Others may include a malfunctioning control panel, a faulty thermostat or a problem with the drum roller bearings. Each of these issues is serious and requires expert attention.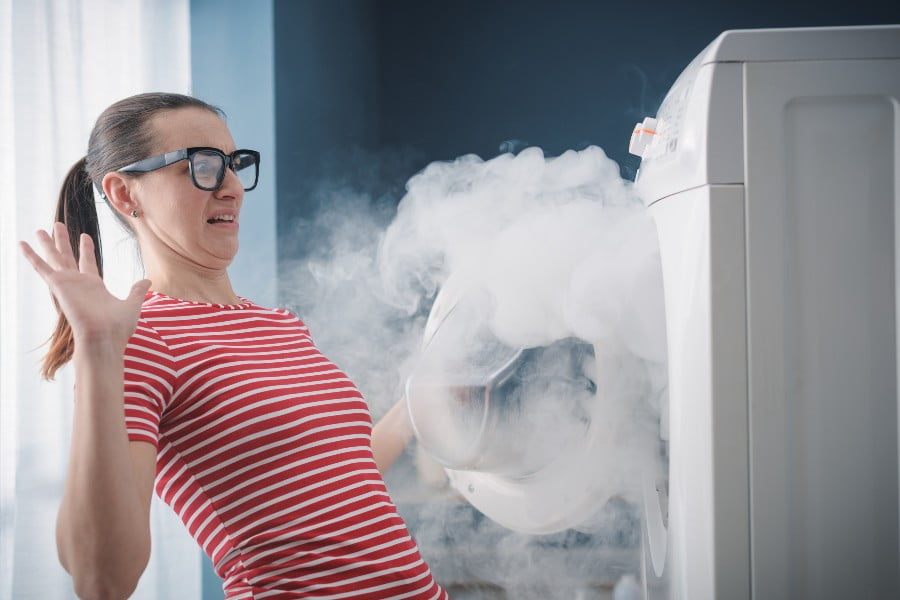 Tumble dryer is not heating
If your dryer is not heating up or your tumble dryer is not getting hot, you may be dealing with potential issues that include a heating element failure, a tripped thermal fuse, a faulty thermostat, issues with the control board, broken or loose wire connections or even a malfunctioning timer.
Tumble dryer is not spinning
The possible cause of this issue includes a broken drive belt, a faulty motor or a defective door lock/switch. Other potential causes include a malfunctioning control board, a broken or loose wire connection or issues with the start button. 
Tumble dryer is not drying
Some of the reasons behind this issue may include a blocked or restricted air flow, faulty heating elements or components, overloading or an unevenly distributed load, a malfunctioning moisture sensor, a worn-out drum belt or a faulty control panel. 
Tumble dryer is squeaking
The potential culprit of this issue is a worn out or damaged drum belt, defective drum rollers or glides, a faulty idler pulley or motor bearing, a loose or misaligned belt tensioner, foreign objects trapped in the drum or a malfunctioning drive motor.  
Tumble dryer drum is not turning
When a drum is not turning on a tumble dryer, you could be facing issues with a broken drive belt, a faulty motor, a defective start switch or a control board, a malfunctioning door switch, a broken drum belt tensioner or obstructions that prevent the drum's movement.
Tumble dryer is making a noise
The potential reason for this issue may include worn out or damaged drum rollers or glides, a loose or a worn belt, a faulty or misaligned fan or blower wheel. However, other reasons may include a faulty motor, loose or worn bearings, foreign objects trapped in the drum or blower or a malfunctioning pulley or tensioner. 
While there are certainly other common tumble dryer problems, these are the ones that are most frequently reported. However, your tumble dryer problems don't need to be problems anymore with accurate diagnostics and repairs. Get in touch with us to book your appliance repair service and avail of our six-month guarantee, our professional touch and highly trained and experienced technicians who know the best way to resolve practically any tumble dryer issue possible.
Frequently asked questions
Q: Are you able to repair my tumble dryer?
A: The skilled Mix Repairs appliance engineers, servicing London, Kent, and beyond, are adept at repairing various appliances, including malfunctioning tumble dryers. Common signs of a faulty tumble dryer include improperly dried clothes, loud noises, the appliance not spinning, or failing to heat up, among others.
Q: Do you offer local tumble dryer repairs?
A:We provide local tumble dryer repair services in the London and Kent areas, covering regions such as Bickley, Brixton, Bromley, Croydon, Dartford, Orpington, Maidstone, Sittingbourne, Tonbridge, Royal Tunbridge Wells, Gravesend, and more. Our skilled technicians are ready to address any issues with your tumble dryer promptly and efficiently.
Q: When can I book my tumble dryer service?
A: You can book your tumble dryer service with a same- or a next-day appointment. Our expert will arrive at your property at the agreed upon time and attend to the repairs. We charge no call-out fees and you can enjoy a quick and seamless service followed by a working tumble dryer once again. 
Q: How do you fix a tumble dryer?
A: The Mix Repairs appliance engineer is equipped to handle repairs for a variety of brands, including Samsung, Ariston, Beko, Bosch, Candy, Electrolux, Hotpoint, LG, Miele, Siemens, Smeg, Whirlpool, CDA, and more. Beginning with a thorough inspection tailored to the appliance's make and model, our technician will then professionally address the issue. If required, spare parts will be expertly installed. Our service comes with a six-month guarantee on both parts and labor.
Q: What is the cost of a dryer repair?
A: Depending on the problem at hand, the cost of your dryer repair could vary. However, we guarantee that we do not charge call-out fees, nor do we include any hidden costs in the final price. You also pay a fixed cost for labour and diagnostics. 
Q: When will the tumble dryer engineer arrive?
A: You can expect your tumble dryer engineer to arrive at your home promptly once the appointment has been booked. They will give you a call 30 minutes beforehand so that you can plan your time and schedule better.