6 Months Guarantee
All our repairs come as standard with our six months parts and labour guarantee.
Affordable Prices
Unbeatable price list designed for all customer needs.
Fully Guaranteed & Insured
We are fully insured for public liability and employer's liability.
More than 15 years of experience
We have huge experience in the field. More than 15 years.
Local Engineers
Local based engineers with fully equipped Vans.
Same and Next Day Appointments
We have available time slots in all London and we can be with you on the same day.
Reliable Technicians for Your Electric Oven Repairs in London & South London
Ever since they came into widespread use and circulation in the 1920s, ovens have become an integral part of our lives. It's obvious to state that we use them to cook our food, but what's not obvious is the challenge that comes with fixing a broken oven. 
At MIX Repairs, we understand what that means for you. Not only will you be dealing with overcooked or undercooked food but you may be dealing with a safety risk due to your faulty oven. In addition to this, a faulty oven also means expenses that were not planned for and it means taking time out of your schedule to meet and invite the repair technician into your home. We completely respect these challenges that you are dealing with and we are here to help with our professional local oven repairs in London.
Being a local appliance repair service provider, we are close to you for your convenience. But our area of coverage is extensive, as is our expertise. In fact, our appliance repairs engineers have been providing local oven repairs in London for over 15 years, making us a trusted name in the industry. With a reputation for high quality services that put you at the heart of everything, we strive to ensure your complete satisfaction and peace of mind with every service we provide.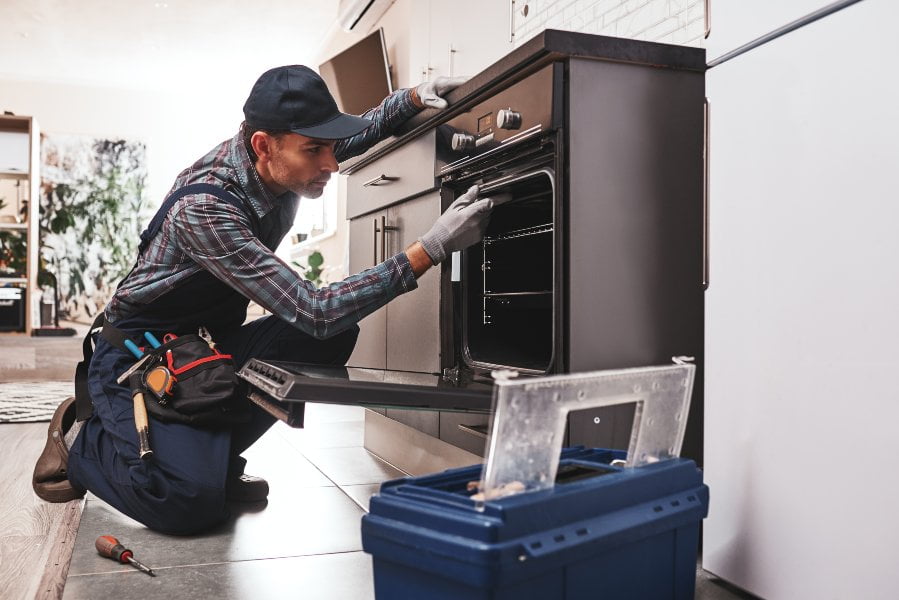 All you need to do is contact us. You can book a same-day or next-day appointment for emergency situations or you can book a regular slot during the course of the week. And booking with us is extremely easy. You can do so by giving us a call or by filling in a form on our website to get your free quote. We are trusted by appliance manufacturers and are a reliable household name for appliance repairs. Get in touch with us today!
---
They were outstanding. We had the best technician I have ever seen. If you ever need washing machine repair just call them
Perveen Mohammed
2023-06-11
Very efficient. I just made one call for an appointment, and everything was sorted within 24 hours.
Richard Harding
2023-02-16
I booked an engineer yesterday and I was surprised to get one so quickly. The engineer arrived and he was well presented, polite and knowledgeable. He found the problem quickly and explained it clearly. I had to leave as i was taking my wife and son to a doctors appointment. I felt very comfortable leaving him alone in my house. He kept the area clean and tidy and tidied as he went. I would use them again and would recommend them highly. My engineer was Simona Stoikova.
Simona was super helpful on the phone and gave me all the information quickly and was really friendly. George who repaired my dryer worked really quickly and did a great job. Would defiantly use again.
This is the second time that I have used this company and I am delighted with the result. Everything was explained clearly and the engineer was able to resolve the problem on the first visit.
Good engineer 👍
Really happy with the service provided today. The engineer came on time and sorted out the problem with my fridge. He even fixed the hinges (which I did not realise were causing a problem) and gave me advice on how to defrost the freezer and what setting to keep the freezer on. Would reccomend to anyone for a reliable and trustworthy company.
Hire the most professional company in London & Kent. We are dedicated to providing top quality services!
Electric Oven Repairs Kent That Come With a Quality Guarantee
Having your oven out of order for an extended period of time is challenging, indeed. The last thing you want is to be microwaving every meal or getting expensive takeaways instead of cooking the wholesome meals that you prepare for your family. But a faulty oven doesn't have to stop you from doing this. It's just a matter of finding the right appliance specialists for your local oven repairs in Kent and booking your appointment.
When you contact us at MIX Repairs, we will ensure that we send a highly trained and well qualified technician to your home to carefully examine, accurately diagnose and then thoroughly repair the oven fault in question. What's more is that with our service, you can enjoy an extended longevity and improved functionality of your oven with our six-month quality guarantee. This should give you greater peace of mind and more confidence in your appliance.
But in addition to all this, with us there are no hidden costs and our rates are competitive and affordable. You can also avail of a same-day or next-day appointment in the event of an emergency situation that requires urgent attention and repairs. No matter what your needs and expectations are, we always strive to ensure we meet them and we are here for you at every step of the way when you need oven repairs in Maidstone.
Simply get in touch with us by giving us a call or get your free quote online. We don't charge any hidden fees and our pricing is completely transparent. Furthermore, we are also insured in the event of any accidents or mishaps, and in this way, we strive to make sure that your local oven repairs in Kent are as professional as possible as well as meet your expectations.
Why Choose Us:
At Mix Repairs, we are proud to be your trusted option for appliance repairs. Here's why you should choose us:
Extensive Experience: With over 15 years in the industry, our expertise ensures top-notch repairs. Trust our technicians to handle any job efficiently.
Qualified Technicians: Our large network of fully qualified technicians are experienced in repairing various appliances. Rest assured, your appliance is in capable hands.
Fast and Reliable Service: We value your time and provide prompt and dependable service. Our technicians work efficiently to minimise inconvenience caused by faulty appliances.
Same and Next-Day Appointments: We offer convenient same-day and next-day appointments, prioritising your urgent needs.
Mix Repairs Own Engineers: Unlike other services, our technicians are directly employed by Mix Repairs. This maintains quality control and ensures skilled and reliable professionals.
No Hidden Charges: We prioritise transparency and provide upfront pricing with no hidden fees. You'll have a clear understanding of the costs before repairs commence.
Contact us today at 020 3773 7520 to schedule an appointment or for more information. We are available Monday to Saturday from 8:30 am to 5:00 pm. Trust us to promptly restore your appliance's functionality.
Freestanding Oven
£ 68.50 + VAT
No Call Out charge
One-Off labour/diagnostic charge
Six Months Guarantee
No Hidden charges
No Time limit
Parts Charged Separately
Integrated Oven
£ 76.50 + VAT
No Call Out charge
One-Off labour/diagnostic charge
Six Months Guarantee
No Hidden charges
No Time limit
Parts Charged Separately
Common Oven Faults That MIX Repairs Can Handle
Despite the fact that there are major differences between different brands of ovens, they tend to operate under similar principles of heating and cooling at the right temperature and at the right time. That's why there are some common oven faults that you may have encountered before and may need help with. And that's also the reason why it doesn't matter whether you have a Hotpoint, Bosch, Indesit, Neff, GE, LG, Samsung, Bertazzoni, Viking, Black, Decker or AEG oven, or any other brand for that matter. We are here to help ensure we get your oven functioning optimally once again as our service is trusted by manufacturers.
When it comes to common faults with your Beko oven and other brands of ovens, you may have previously experienced issues that include some of the following:
Electric oven is not heating up
If your cooker/oven won't turn on or the electric oven is not getting hot enough, then you may be dealing with issues with the control board, a faulty temperature sensor or a tripped thermal fuse. Other potential problems may include aspects such as a faulty heating element or a malfunctioning thermostat.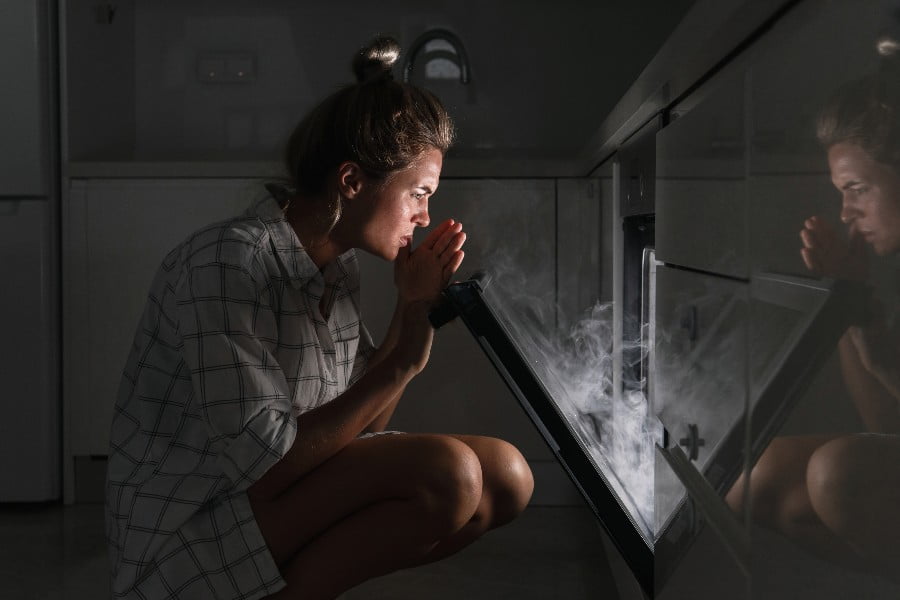 Oven temperature is too high
Finding that your oven is overheating? Potential causes of this issue include a malfunctioning control board or timer, a defective heating element or a misaligned or faulty oven door seal. In addition, you could be dealing with a faulty temperature sensor, a malfunctioning thermostat or blocked/malfunctioning oven ventilation.
Fan oven is not heating up
When your oven fan is not working, you could be dealing with a faulty fan motor. Alternative culprits for this issue may be a broken heating element, a defective thermostat or temperature sensor, issues with the control board, a tripped thermal fuse or problems with the power supply or wiring.
Oven door is not closing properly
The potential causes of this issue could be misaligned or broken door hinges, a worn or damaged door gasket, a loose or damaged door latch, a warped or damaged oven door, debris or obstructions preventing the door from closing fully or issues with the door springs or cables.
Oven door latch is stuck
If you have a broken oven door, that necessarily means that you will have a stuck door latch. This will possibly need to be repaired or replaced altogether to restore the functionality of your oven once more.
Oven light is not working
Some of the potential causes of the light in your oven not working include a burnt out light bulb or a faulty light socket. Alternatively, you may be dealing with a problem related to the light switch or control board.
Oven is not cooking evenly
Finally, if you notice that your oven is not cooking evenly, you may be facing issues such as an incorrect oven temperature setting, a blocked or malfunctioning oven fan, incorrect rack placement, a malfunctioning heating element, a damaged oven seal that allows heat to escape or inadequate preheating time.
Of course, there are numerous other common oven faults that you may have encountered with your oven. The most important thing is to ensure that you speak to us for your oven repair needs to get your oven back in working order and with a six-month guarantee on the quality of the labour and the parts fitted. Simply get in touch with us today!
Frequently asked questions
Q: Where do you provide oven repair services?
A: We conduct oven repairs throughout the London and Kent areas, including regions such as Bickley, Brixton, Bromley, Croydon, Dartford, Orpington, Maidstone, Sittingbourne, Tonbridge, Royal Tunbridge Wells, Gravesend, and more. Our skilled technicians are ready to address any issues with your oven promptly and professionally.
Q: What does the oven service entail?
A: There may be a number of faults with your oven. For example, it may not be heating up properly, it may be emitting strange odours, it's not cleaning itself properly, some of the lights will either switch on or off at inappropriate times and other issues. Your Mix Repairs expert will ensure that they diagnose the problem first and then attend to repairs by installing spare parts, if this is required in your case.
Q: How is the oven repair service performed?
A: The oven repair service is performed by a trained technician who will attend to troubleshooting the problem and then repairing it. This will be done by a thorough diagnostics procedure and the installation of spare parts, if called for. 
Q: Can you assist me with oven maintenance?
A: Oven maintenance is one of the services that we offer for kitchen appliances.
Q: What can I expect from your oven engineer?
A: You can expect our oven engineer to give you a call 30 minutes prior to the appointment to let you know that they are on their way. You can then expect their prompt arrival as scheduled and they will then offer you a courteous and professional oven repair service that comes with a six-month guarantee on parts and labour.
Q: Does your oven servicing include older models?
A: We provide maintenance and repair services for all oven models, including popular brands like Samsung, Ariston, Beko, Bosch, Candy, Electrolux, Hotpoint, LG, Miele, Siemens, Smeg, Whirlpool, CDA, and more, regardless of their manufacturing date. In certain instances, if the issue is deemed severe, our technician may recommend purchasing a new oven to save you from additional repair costs. This suggestion is typically made when the existing oven model is considered too expensive to repair.
Q: What does your electric oven repair cost?
A: We have a fully transparent price list that includes no call-out fees and which only takes into account the cost of the labour and parts. We also do not add on any hidden charges in your quote.