6 Months Guarantee
All our repairs come as standard with our six months parts and labour guarantee.
Affordable Prices
Unbeatable price list designed for all customer needs.
Fully Guaranteed & Insured
We are fully insured for public liability and employer's liability.
More than 15 years of experience
We have huge experience in the field. More than 15 years.
Local Engineers
Local based engineers with fully equipped Vans
Same and Next Day Appointments
We have available time slots in all London and we can be with you on the same day.
Professional Washing Machine Repairs in London & South London
We all need our washing machines to help us look our best. Clean clothing is an essential part of being healthy and hygienic. Not to mention the benefits and positive image of stain and odour-free clothes. Yet, when your washing machine breaks down or stops working altogether, you may find yourself in a difficult situation. Where will you find a repair person who is well-qualified for the job? How quickly can they arrive to fix the problem? And will the cost be excessively high? With MIX Repairs, these are questions you don't have to worry about when you contact us to repair your washing machine in London.
That's because our technicians go through extensive training and have over 15 years of experience in repairing broken washing machines. In addition to this, you can count on us for same-day and next-day appointments, which are extremely handy in the case of emergencies.
The last thing you need is piles of dirty laundry building up and no washing machine to clean them. And last but not least, we make sure that you get an affordable service with us. We know that when your washing machine breaks down or starts malfunctioning, this is often an unforeseen expense. However, we cater to your budget by offering you a high quality service at great rates.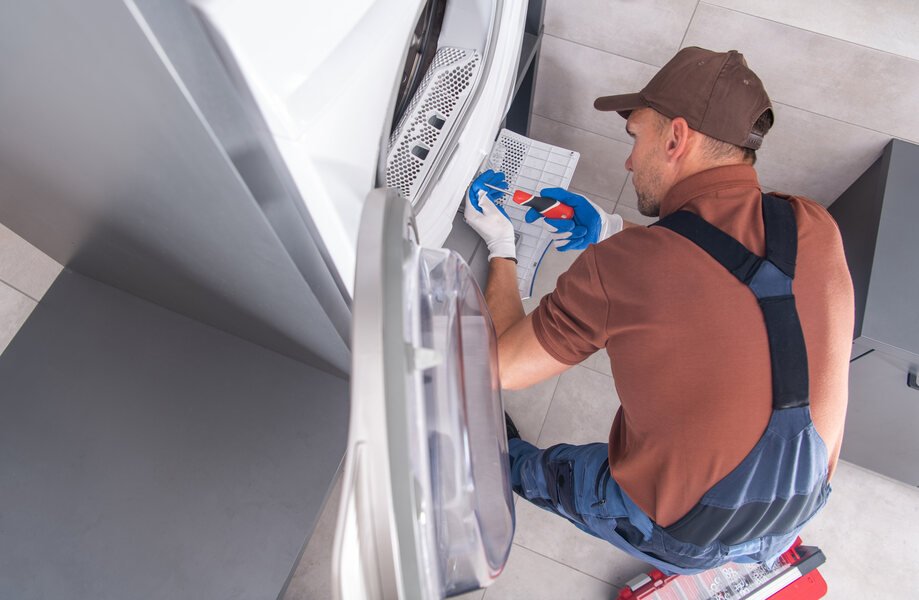 Choose MIX Repairs for your broken or malfunctioning washing machine and count on our experienced appliance repair technicians in Croydon, Bromley, Dartford and the rest of South London to provide you with a quality service that comes with a six-month guarantee on parts and labour. We take great pride in the quality of our service to you and strive to ensure that you receive complete service satisfaction when our technician is through with repairing your appliance. All you have to do to have us repair your washing machine in South London or any other part of  London is get in touch. You can do so by giving us a call or by getting a quote quickly and easily online on our website. It's that easy!
---
They were outstanding. We had the best technician I have ever seen. If you ever need washing machine repair just call them
Perveen Mohammed
2023-06-11
Very efficient. I just made one call for an appointment, and everything was sorted within 24 hours.
Richard Harding
2023-02-16
I booked an engineer yesterday and I was surprised to get one so quickly. The engineer arrived and he was well presented, polite and knowledgeable. He found the problem quickly and explained it clearly. I had to leave as i was taking my wife and son to a doctors appointment. I felt very comfortable leaving him alone in my house. He kept the area clean and tidy and tidied as he went. I would use them again and would recommend them highly. My engineer was Simona Stoikova.
Simona was super helpful on the phone and gave me all the information quickly and was really friendly. George who repaired my dryer worked really quickly and did a great job. Would defiantly use again.
This is the second time that I have used this company and I am delighted with the result. Everything was explained clearly and the engineer was able to resolve the problem on the first visit.
Good engineer 👍
Really happy with the service provided today. The engineer came on time and sorted out the problem with my fridge. He even fixed the hinges (which I did not realise were causing a problem) and gave me advice on how to defrost the freezer and what setting to keep the freezer on. Would reccomend to anyone for a reliable and trustworthy company.
Washing Machine Repairs in Kent Carried Out by Trusted Technicians
We all know how frustrating it is when your washing machine starts displaying error codes that you simply don't understand. They can represent a wide variety of issues, which include things such as a malfunctioning drum, problems with the wiring and circuitry, pump and hose issue, filter problems and a wide array of others. However, with MIX Repairs, fixing your washing machine should be the least of your worries. That's because we have highly trained, reliable and trustworthy technicians who can carry out your Kent washing machine repairs.
These professionals have been performing washing machine repairs in Maidstone, Sittingbourne, Tonbridge and all the near areas for over 15 years, making us one of the most trusted and reliable appliance repair service providers in the industry. What's more is that you not only get a six-month guarantee with us on parts and labour. We are also fully insured for your satisfaction and peace of mind. With us, you can book a same-day or next-day appointment, which is especially useful in the case of an emergency. But that's not all. With our Kent washing machine repairs, you get a free quote on your service which, together with our affordable rates, means that you won't be out of pocket when it comes to these unforeseen challenges.
When you book your washing machine repair service with us, you are choosing quality, professionalism and a brand that's trusted by manufacturers. We have a broad range of brands in our portfolio that we repair, which means that our technicians will be able to take care of your washing machine, irrespective of brand, make or model. Don't hesitate to contact us for your free quote, affordable service with no hidden costs and make your booking today! Our friendly and helpful team is ready to be of service to you.
Why Choose Us:
More than 15 years' experience.
A large network of fully qualified technicians.
Technicians are fully equipped.
24/7 phone support is always available.
Fast and reliable service.
Same and next-day appointments in certain areas.
Dedication to customer satisfaction.
Mix Repairs own engineers
No hidden charges
For more information please do not hesitate to contact the team at Mix Repairs today. Call us today on 020 3773 7520 we're open (Mon-Sat 8:30 – 17:00)
Our team can repair your appliance on the same day for a fixed one-off labour charge. We offer same and next-day availability. Our technicians specialize in all styles of washers including top loading, front loader, and washer-dryer combos.
Washing Machine Repairs Prices:
Freestanding Washing Machines
£ 68.50 + VAT
No Call Out charge
One-Off labour/diagnostic charge
Six Months Guarantee
No Hidden charges
No Time limit
Parts Charged Separately
Integrated Washing Machines
£ 76.50 + VAT
No Call Out charge
One-Off labour/diagnostic charge
Six Months Guarantee
No Hidden charges
No Time limit
Parts Charged Separately
Common Washing Machine Problems That MIX Repairs Can Handle
Washing machines may appear to be complicated appliances to fix and repair, but when in the right hands, often all it takes is a small fix to get your washer functioning optimally once again. That's why you can count on us for your quality washing machine repairs including brands such as LG, Samsung and many others.
Our trusted technicians have identified several common washing machine problems that you may have noticed your washer displaying either individually or simultaneously. Examples of these Beko washing machine common faults and other brands include the following:
Washing machine is leaking from the bottom
This can happen as a result of numerous factors, including improper hose and pipe connections, faults with the drainage system or even a blocked filter or pump.
Washing machine is noisy
Most washing machines today are designed to operate quietly but when your washing machine is making a loud noise, you have cause to be concerned. Examples of problems that need attention include worn or faulty bearings or loose or worn belts.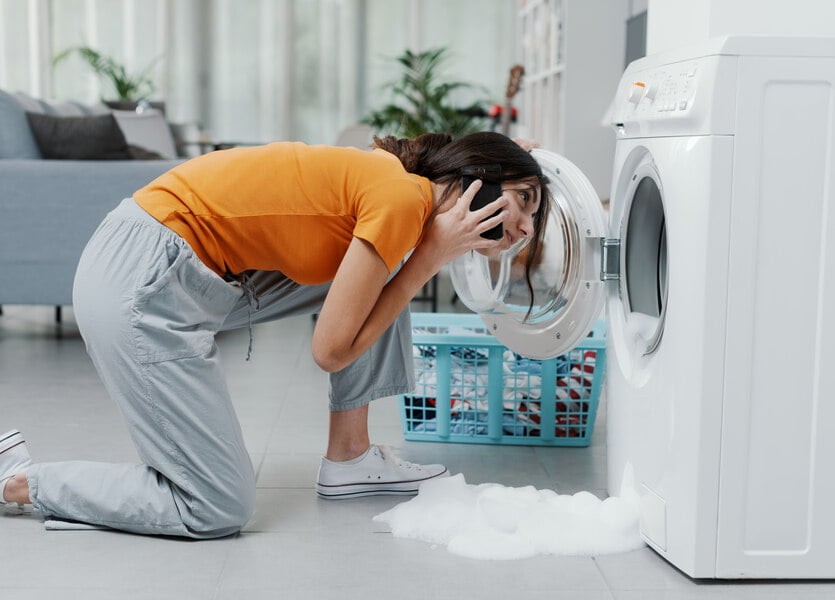 Washing machine is not spinning
Your washing machine may also not spin or not spin as it should. This could be caused by a lid switch or door lock assembly problem. Alternatively, you may be dealing with problems related to your drive belt or motor or the motor control board or timer. Other potential causes include a clogged or malfunctioning drain pump or a malfunctioning clutch assembly. 
Washing machine is not filling with water
When water is not filling your washing machine, you could be facing problems that include: a faulty water inlet valve, water supply issues or a faulty water level sensor or pressure switch. In addition to these problems, your washer may not be filling with water potentially due to a malfunctioning control board or clogged filters or screens.
Washing machine door is not opening
Your washing machine has washed and spun the clothes in a proper cycle but now that washing machine door is locked. The potential culprits of this are: there may still be water in the washing machine, there is a faulty door lock mechanism or there is a power failure or a control board malfunction. In such cases, it's important not to try to force the door to open but rather approach a professional. 
Washing machine is not draining
When your washing machine won't drain, you may be dealing with a case of a clogged or blocked drain hose. Other potential problems include a clogged pump filter or coin trap or a faulty drain pump. When water is not draining from your washing machine, you need to call in an expert to take a look.
Washing machine won't turn on
When your washing machine start button is not working, you could potentially be dealing with power supply issues, a faulty power cord or outlet and a malfunctioning control board or timer. 
The drum is not turning on your washing machine
Other problems you may encounter include when your washing machine is not turning the drum. Potential issues here include drive belt or motor faults, a lid switch or door lock assembly issue or an obstruction or a jammed drum, in addition to others.
Of course, there are many other common washing machine problems that you could be facing with your appliance and the causes are numerous depending on the issue in question. What's important at this stage is to contact us so that we can accurately diagnose and repair the problem, while providing you with transparent rates and a six-month guarantee on the faults and spare parts fitted.
If you have noticed problems with your home appliance we recommend you take fast action, the soonest you resolve the issue, the less likely further damages will occur. Our engineers are fully equipped and fully skilled on all brands repairs. Our washer repair service is quick and professional.
For your convenience we repair your appliance at the appliance location: home, office or workplace, we cover all London & Kent. For more information please do not hesitate to contact the team at Mix Repairs today. Call us today on 020 3773 7520 we're open (Mon-Sat 8:30 – 17:00).
Frequently asked questions
Q: Can you fix my washing machine?
A: Absolutely! We have over a decade's worth of experience in the industry of fixing a wide range of home appliances and washing machines are included in our service offering. We repair a variety of washing machine makes and models so that you can rest assured that interruptions caused to your daily routine due to a malfunctioning washing machine will be kept to an absolute minimum.
Q: Do you offer same-day washing machine repairs?
A:We provide efficient washing machine repair services with the option for both same- and next-day appointments, ensuring convenience and peace of mind for residents in London and Kent. To schedule your repair, just fill out our online booking form, and we'll promptly create your appointment. Anticipate the arrival of our skilled technician, who will deliver quality results. Our service is backed by a six-month guarantee on both parts and labor, offering reassurance to our customers in London and Kent.
Q: When will the local washing machine repairman arrive?
A:Whether you book a same- or next-day service in areas like Bickley, Brixton, Bromley, Croydon, Dartford, Orpington, Maidstone, Sittingbourne, Tonbridge, Royal Tunbridge Wells, Gravesend, and more, you can easily track the arrival of your local washing machine repairman. As an additional courtesy, our technicians will give you a call 30 minutes before reaching your location, allowing you to better plan your day.

Q: How do you perform a washer repair?
A: Our experienced washer repair engineers will arrive at your home in a branded van on a date and at a time that was previously arranged. They will then inspect the problem, troubleshoot it and attend to the repairs. They will bring with them a wide range of spare parts and install the necessary ones, if needed. Alternatively, they will attend to the repairs needed to ensure your appliance is in top form once again.

Q: What are the qualifications of your washing machine engineer?
A: Our washing machine engineers have many years of experience in fixing washing machines and attending to the necessary repairs to get them functioning optimally once again. They are qualified in repairing multiple washing machine makes and models. What's more is that they are also fully insured against any potential mishaps that may occur, for your convenience.

Q: What washing machine brands do you repair?
A:At Mix Repairs, we pride ourselves on our extensive expertise in repairing a wide range of washing machine brands. Our skilled technicians are well-versed in fixing appliances from renowned brands such as Samsung, Ariston, Beko, Bosch, Candy, Electrolux, Hotpoint, LG, Miele, Siemens, Smeg, Whirlpool, CDA, and many more.