6 Months Guarantee
All our repairs come as standard with our six months parts and labour guarantee.
Affordable Prices
Unbeatable price list designed for all customer needs.
Fully Guaranteed & Insured
We are fully insured for public liability and employer's liability.
More than 15 years of experience
We have huge experience in the field. More than 15 years.
Local Engineers
Local based engineers with fully equipped Vans.
Same and Next Day Appointments
We have available time slots in all London and we can be with you on the same day.
Dishwasher Repairs in London & South London That are Trusted by Manufacturers
We all know that washing dishes is an essential part of having a healthy and hygienic kitchen. But the manual way of doing so is time-consuming, requires effort (especially for the greasy pots and pans) and often doesn't get the job done as well as a machine could. Enter dishwashers on the scene.
Ever since the 1950s when their use came into more widespread circulation, dishwashers have been helping households keep their dishes and cutlery sparkling clean and germ free. But because these appliances are quite complicated in terms of internal machinery and functioning, they can break down over time due to wear and tear.
Sometimes, all that your broken dishwasher needs is a simple spare part to be fitted. However, other times the problem can be more serious. That's why you need an expert to repair your dishwasher in South London in a quality, professional, timely and efficient manner.
Of course, at MIX Repairs, we have become a trusted household name for appliance repairs in London and since we are trusted by manufacturers, you can rest assured that your dishwasher is in safe and capable hands. In fact, our appliance repair technicians have over 15 years of experience in repairing and maintaining all types of dishwasher brands, makes and models, meaning that you can enjoy greater peace of mind and service satisfaction when you choose us.
In order for us to repair your dishwasher in London, Croydon, Dartford, and Bromley all that you have to do is get in touch with us. You can do so by giving us a call or by booking an appointment online through our website. We charge affordable rates for our services and our pricing is transparent, meaning no added on or hidden costs that you weren't planning for. In addition to this, we offer insurance on every service provided so that you can rest assured that your service will be as smooth as possible.
---
They were outstanding. We had the best technician I have ever seen. If you ever need washing machine repair just call them
Perveen Mohammed
2023-06-11
Very efficient. I just made one call for an appointment, and everything was sorted within 24 hours.
Richard Harding
2023-02-16
I booked an engineer yesterday and I was surprised to get one so quickly. The engineer arrived and he was well presented, polite and knowledgeable. He found the problem quickly and explained it clearly. I had to leave as i was taking my wife and son to a doctors appointment. I felt very comfortable leaving him alone in my house. He kept the area clean and tidy and tidied as he went. I would use them again and would recommend them highly. My engineer was Simona Stoikova.
Simona was super helpful on the phone and gave me all the information quickly and was really friendly. George who repaired my dryer worked really quickly and did a great job. Would defiantly use again.
This is the second time that I have used this company and I am delighted with the result. Everything was explained clearly and the engineer was able to resolve the problem on the first visit.
Good engineer 👍
Really happy with the service provided today. The engineer came on time and sorted out the problem with my fridge. He even fixed the hinges (which I did not realise were causing a problem) and gave me advice on how to defrost the freezer and what setting to keep the freezer on. Would reccomend to anyone for a reliable and trustworthy company.
Your Professional Dishwasher Repairs in Kent With a Quality Guarantee
Modern dishwashers are designed to be eco-friendly, energy efficient, operate quietly and they often have a pleasing aesthetic design to match your kitchen furnishings. But when your dishwasher starts malfunctioning or not working at all, you're right to be concerned. At MIX Repairs, we completely understand that these unexpected situations can lead to a lot of hassle and they can also be costly. But with our Kent dishwasher repairs, that's something you don't have to worry about any longer.
When you choose the MIX Repairs dishwasher repairs in Maidstone, Tonbridge, Sittingbourne you are choosing quality and professionalism. Each of our technicians is highly skilled and experienced in repairing hundreds if not thousands of different brands of dishwashers. And to top it all off, we are an appliance repair service provider that is trusted by manufacturers. When we receive their stamp of approval, you know that we'll provide you with a quality service.
But how can we guarantee that? It's simple. We not only offer a six-month quality guarantee on the spare parts fitted and labor involved in repairing your dishwasher. We are also insured for public liability and employer's liability insurance so that you can enjoy much more peace of mind than many fly-by-night operations out there. With over 15 years of experience on the market of helping households get their appliances repaired, we have become a trusted household name and that is something we take great pride in.
So, when you need Kent dishwasher repairs, you know who you can turn to. At MIX Repairs, we offer you a comprehensive service that will give you greater peace of mind and satisfaction so that you can rest assured and enjoy the extended longevity and improved functionality of your dishwasher once again as a result of accurate diagnostics and professional repairs.
Why Choose Us:
Expert technicians stand 100% behind their job.
Competitive prices and convenient appointment times.
Guaranteed service.
We service all major appliance brands.
Emergency and weekend service.
We receive ongoing training from manufacturers.
We service all major dishwasher brands.
Quick response.
30 minutes call before arriving.
Experienced and fully equipped technicians.
Same and next day appointments.
For more information please do not hesitate to contact the team at Mix Repairs today. Call us today on 020 3773 7520 we're open (Mon-Sat 8:30 – 17:00)
We are dedicated to our clients and are always available to assist and provide with the right service required. When you call us, you can expect us to send an experienced service technician to your home to provide you with an excellent customer service.
Dishwasher Repairs Prices:
Freestanding Dishwasher
£ 68.50 + VAT
No Call Out charge
One-Off labour/diagnostic charge
Six Months Guarantee
No Hidden charges
No Time limit
Parts Charged Separately
Integrated Dishwasher
£ 76.50 + VAT
No Call Out charge
One-Off labour/diagnostic charge
Six Months Guarantee
No Hidden charges
No Time limit
Parts Charged Separately
Common Dishwasher Problems That MIX Repairs Can Handle
Dishwashers are complicated appliances and although there are numerous different brands out there, there are some common dishwasher problems that appear across multiple brands including Miele, Siemens and others. So, whether you are in need of Bosch dishwasher repairs in London & Kent or you have another type of dishwasher, you don't have to worry because we cover them all.
And when it comes to potential issues your dishwasher may have, here are some of the most frequently encountered problems that we see:
Dishwasher is not working
When your dishwasher is not working, this could be attributed to power supply issues, a clogged or malfunctioning water inlet valve, a faulty door latch or switch, etc.
Dishwasher is leaking
If your dishwasher is leaking from the bottom, you may be dealing with a faulty door seal or gasket, damaged or loose hose connections or a malfunctioning pump or pump seal.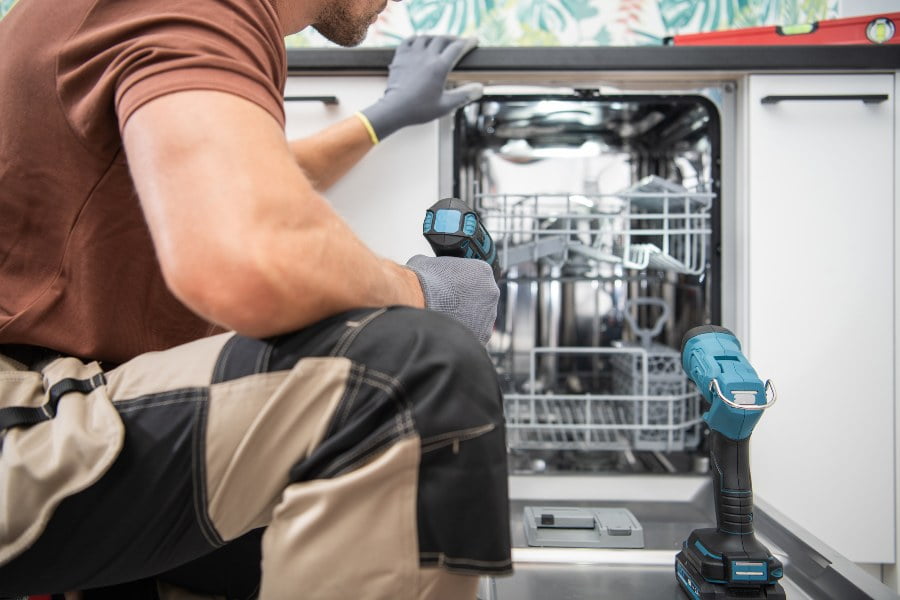 Dishwasher is not draining fully
When water is not draining in your dishwasher, some potential causes of this include a clogged or blocked drain hose, a blocked or faulty drain pump or a clogged or obstructed drain filter.
Dishwasher is making a loud noise
If you notice that your dishwasher is making a grinding noise or a loud noise that sounds quite unnatural, your professional technician will need to check for potential problems that may include a faulty or worn-out motor, loose or damaged pump hosing or worn-out or damaged wash arm bearings.
Dishwasher won't turn on
The potential causes of this issue could be power supply problems, a faulty door latch or switch or a control panel or electronic control board malfunction.
Dishwasher won't turn off
This could be caused by a stuck or faulty control panel button, a malfunctioning timer or electronic control board or a faulty door switch or latch.
Dishwasher smells
If your dishwasher is emitting strange or unpleasant odours, this could be a result of food debris and residue, mould and mildew growth or hard water deposits.
Dishwasher is not filling with water
When your dishwasher is not filling with water, you may be facing the possibility of a clogged water inlet valve or filter, a faulty float switch or a defective water inlet solenoid.
Dishwasher is not cleaning properly
The potential causes of this issue include a blocked spray arm or nozzles, insufficient water temperature or water pressure or improper loading or overcrowding.
Although there are numerous other challenges your dishwasher may face, these are some of the most common dishwasher problems you may encounter. However, as an appliance repair service provider that is trusted by manufacturers and provides a six-month quality guarantee, with same-day and next-day appointments available, you can now enjoy greater peace of mind that your appliance is in safe hands as we offer you a guaranteed service at affordable rates and with free quotes.
Frequently asked questions
Q: Can you repair my dishwasher?
A: Our skilled appliance engineers cover all of London and Kent, offering expertise in repairing various kitchen appliances, including dishwashers from renowned brands like Samsung, Ariston, Beko, Bosch, Candy, Electrolux, Hotpoint, LG, Miele, Siemens, Smeg, Whirlpool, and CDA. Regardless of the make or model, our professionals will diagnose and rectify any issues efficiently. They carry an extensive selection of spare parts and will install them as needed for your specific case.
Q: How do you perform built-in appliance repair services?
A: The Mix Repairs appliance expert will arrive at your home at a prearranged time and date and they will inspect the issue at hand with your built-in dishwasher. Once they've identified the problem, they will attend to repairing it in the quickest and most professional manner possible. Our service comes with a six-month guarantee on parts and labour, so you can rest assured that you won't face such problems with your dishwasher in the foreseeable future.
Q: Does the local dishwasher repair man provide some form of guarantee?
A:  Yes, our dishwasher repair services are backed by a six-month guarantee on parts and labour. 
Q: How experienced are the dishwasher engineers?
A: Our trained experts come with over 15 years of experience which they've built onto by repairing hundreds if not thousands of dishwashers in the past. They are also insured under employer's liability and public liability insurance to give you more peace of mind.
Q: What does the dishwasher repair service involve?
A: The dishwasher repair service involves troubleshooting and actual repairs. The identification of the problem is the first step in the process and it is then followed by in-depth repairs that will result in your dishwasher functioning optimally once again.
Q: Do you also perform dishwasher maintenance?
A: We offer comprehensive dishwasher maintenance services in various locations, including Bickley, Brixton, Bromley, Croydon, Dartford, Orpington, Maidstone, Sittingbourne, Tonbridge, Royal Tunbridge Wells, Gravesend, and more. Our skilled engineers will inspect your dishwasher, identifying and addressing any signs of trouble to ensure it continues to operate smoothly. Choose our maintenance service for hassle-free and uninterrupted use of your dishwasher throughout your day.