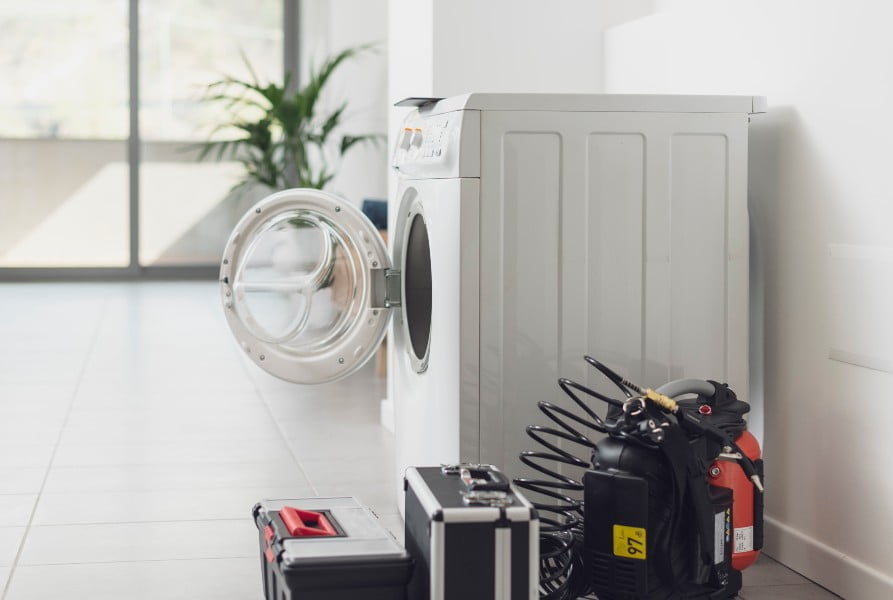 Rely on the pros for your high-quality domestic appliance repairs in Gravesend
Our domestic appliances make our lives so much easier. They're there for us day in and day out. We rely on them so much that we only seem to notice them when something goes wrong. But before you decide to purchase a new appliance, think about having it repaired to save yourself some costs. Most appliances have a long life span. However, sometimes, due to wear and tear these appliances can break down. That's when you need a specialist and highly professional domestic appliance repair electrician to help you out. And that's where we at Mix Repairs come to the fore.
When you book your appliance repair service with us, your appliance's electrical problems will be swiftly and adeptly addressed by your local engineer. With us, you get a service that's not only trusted by manufacturers but one that also offers you a six-month quality guarantee. 
Whether it's one of the most common appliance faults or it's something more complicated, you can rest assured that our pros will be able to take care of any issues irrespective of brand, make or model. We service a broad range of brands and some of the manufacturers in our portfolio include LG, Elica, Miele, Electrolux, Beko, Bosch, Baumatic, Samsung and more.
All you have to do now is get in touch with us to book your local domestic appliance repair electrician in Gravesend and enjoy greater peace of mind with our quality workmanship.
Fully Qualified Engineers
Team of fully qualified and regularly trained engineers
Local Engineers
Local based engineers with fully equipped Vans
Same and Next Day Appointments
We have available slots in South East London and we can be with you on same day
Local washing machine repairs in Gravesend trusted by manufacturers
With common washing machine problems including the drum not spinning, the incorrect cycle being selected as well as the multiple fault codes that may appear on your washer's display, you need expert repairs for your appliance. At Mix Repairs, that's exactly what you get when you book your service with us. When you contact us for your free quote and to book your service, we will assign one of our highly qualified and experienced washing machine repair experts to your case.
They will be able to carry out your washing machine or tumble dryer repairs in Gravesend swiftly and professionally to give you greater peace of mind and to restore the functionality of your appliance. When you are in need of a washing machine's fixing, get in touch with a trusted household name in the industry. Trusted by manufacturers, our service also comes with a six-month guarantee that is a stamp of quality as part of our promise to you.
Book one of our washing machine repair experts today and avail of a same-day or next-day service for emergencies. Alternatively, get in touch with us to book one of our regular weekday slots. Whichever washer repair service you may need, you can always count on us for high-quality repairs and full-out professionalism.
6 Months Guarantee
All our repairs come as standard with our six months parts and labour guarantee.
Fully Guaranteed & Insured
We are fully insured for public liability an employer's liability
Affordable Prices
Unbeatable price list designed for all customer needs
A six-month quality guarantee for your local dishwasher repairs in Gravesend
Dishwashers have become an indispensable part of our homes. We use them day in and day out to keep our cutlery and crockery clean. But when they start malfunctioning, you are back at the kitchen sink, washing dishes the good old fashioned way. This is not only frustrating but an exercise that can waste your time. To avoid this chore and ensure your appliance is functioning optimally, choose Mix Repairs for your dishwasher repairs & servicing.
When you book us for your service or maintenance, you can avail of a free quote and choose a time slot that suits your needs best. We will then dispatch one of our appliance repair engineers to your home to diagnose and troubleshoot the issue in question so that you can enjoy greater peace of mind. Our quality service to you is backed by a remarkable six-month guarantee that will ensure you don't have to worry about dishwasher repairs & servicing for several months to come.
Choose Mix Repairs for a thorough and quality service that's carried out by experts. With the trust that manufacturers have put in our service and our industry reputation as among the best, your appliance is in excellent hands and ready to operate at full functionality once again.
Electric oven and cooker repairs in Gravesend for any brand, make or model
Having your electric oven or cooker malfunction is not only a frustration. It's also a potential safety risk that you need to avoid at all costs. When you are in need of electric oven repairs, you can always rely on us at Mix Repairs to carry out your maintenance or repair service with dedication and commitment to ensuring your appliance is functioning optimally once again. Avoid wasting precious time and resources on purchasing a new appliance when a thorough repair job will do the trick just as well.
We service a variety of electric ovens and cookers including brands such as LG, Elica, Miele, Electrolux, Beko, Bosch, Baumatic, Samsung and more. Our trusted technicians can therefore carry out your electric cooker repair and diagnostics service with professionalism and a commitment to your and your family's safety. Get in touch with us for your free quote and book your electric oven repairs with us today.
And if you are in need of servicing for any other types of appliances such as a fridge freezer repair, you can always count on us to help! We will restore the functionality of your appliance and back our service with a six-month quality guarantee. What's more is that our services are trusted by manufacturers, meaning industry-wide recognition in the quality of our repair services offered to you.