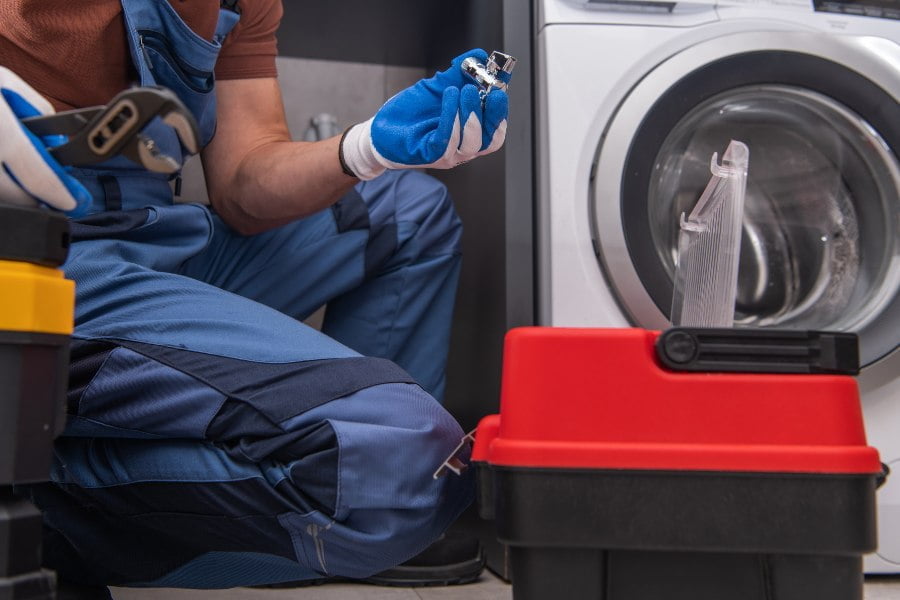 Your trusted Tunbridge Wells domestic appliance repair specialists
The different appliances in our homes are designed to make our lives easier. From cooking to doing laundry, keeping our food cool and fresh or washing our dishes, they provide high levels of convenience. That's one of the reasons why we rely on them so much. But what happens when one of them starts malfunctioning or stops working altogether? Before you think about buying a new appliance, consider having your existing one repaired. With Mix Repairs' specialist domestic appliance repairs electricians, this task becomes a smooth and hassle free experience.
When you contact us to book your local emergency electrician, you can enjoy much greater service satisfaction and peace of mind. That's because our specialists are highly trained, trusted by manufacturers and they offer a six-month guarantee on the service provided. That's why choosing Mix Repairs' certified electricians for home electrical problems in Tunbridge Wells is the best decision you can make. Helping to repair a broad range of appliances and brands including LG, Elica, Miele, Electrolux, Beko, Bosch, Baumatic, Samsung and more, your appliance is in safe and capable hands.
Simply get in touch with us to book your domestic appliance repairs electrician today and enjoy a free quote on the service, too! You can also avail of same-day and next-day appointments for those emergency repairs that just cannot wait.
Fully Qualified Engineers
Team of fully qualified and regularly trained engineers
Local Engineers
Local based engineers with fully equipped Vans
Same and Next Day Appointments
We have available slots in South East London and we can be with you on same day
Local washing machine repairs in Tunbridge Wells you can count on
Some of the most common washing machine problems, irrespective of brand, include the drum not spinning. Although there may be many other symptoms that your washing machine isn't functioning optimally or at all, this will usually be indicated through an error or fault code that your washer displays. If you aren't sure of what these codes mean, it's time to book your local washing machine repairs with Mix Repairs.
Specialists in fixing washing machines and in carrying out tumble dryer repairs, our professional technicians are highly experienced and reliable. What's more is that they offer a service that's trusted by manufacturers in addition to a six-month guarantee on the service carried out. With quality workmanship, your washing machine repairs will be done efficiently and professionally by your Mix Repairs Tunbridge Wells electrician.
All you have to do is reach out to us! Your local washing machine repairs can now be a seamless and hassle-free experience as you can count on the Mix Repairs specialists to take care of your appliance repair service needs.
6 Months Guarantee
All our repairs come as standard with our six months parts and labour guarantee.
Fully Guaranteed & Insured
We are fully insured for public liability an employer's liability
Affordable Prices
Unbeatable price list designed for all customer needs
Electric oven and cooker repairs in Tunbridge Wells with a quality guarantee
We rely on our ovens and cookers on a daily basis to help us prepare our healthy and delicious meals for the family and members in your household. But when these appliances fail you, you've got a challenge on your hands. From overcooking to undercooking your food, having a faulty electrical appliance can pose a safety risk and that's why you need a professional appliance repair technician to resolve the problem in question.
This is where Mix Repairs shines with our trusted Tunbridge Wells experts for oven and repairs. As part of our stamp of quality and professionalism, we offer a six-month guarantee on the appliance repair services you get. With us, you can also count on highly trained and professional electricians, who will be able to repair any brand, make or model of oven or cooker including LG, Elica, Miele, Electrolux, Beko, Bosch, Baumatic, Samsung and more. 
Turn to us for your electric cooker repairs and rely on quality workmanship that restores the functionality of your appliance today. With our experts for oven and repairs, your appliance is in safe and capable hands and you will have greater peace of mind in the quality of your service when it is performed by true professionals who have extensive experience in the field.
Dishwasher repairs in Tunbridge Wells — trusted by manufacturers
All appliances in our homes run on electricity and sometimes, that's exactly what the problem is with your dishwasher that has malfunctioned or stopped working at all. When you are faced with mechanical or electrical problems related to your dishwasher, you need an experienced service provider to help resolve the issue in question. That's where Mix Repairs comes to the fore with our expert dishwasher repair specialists. Whether it's a pump, filter, spray arm issue, temperature sensor or anything else, you can rest assured that they know how to repair them. And to give you greater service satisfaction and more peace of mind, our services are trusted by manufacturers and come with a six-month quality guarantee.
Apart from dishwashers, we can also help carry out your fridge freezer repairs in Tunbridge Wells as well as a wide range of appliances from different manufacturers. Get in touch with us for your hassle-free service today and get a free quote as you book your same-day or next-day service with us. These appointments are great for emergencies but if your appliance repair problem can wait, you can always avail of our regular weekday slots, too.
Book your service with Mix Repairs today and count on our experienced and professional dishwasher repair specialists for a high-quality service that's backed by a six-month guarantee.