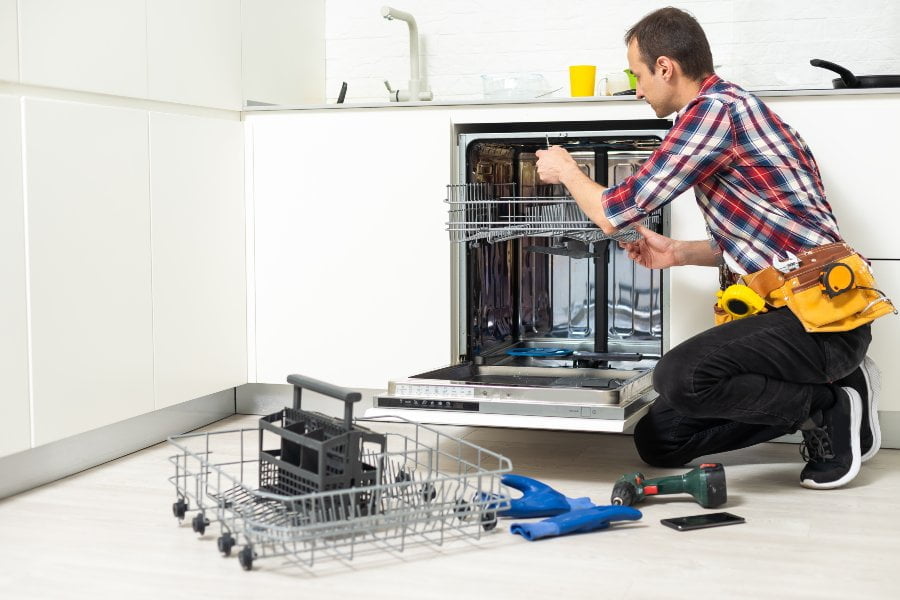 Appliance Repairs in Dartford by Local Professionals
When it comes to domestic appliance repairs, you need a trusted service provider who will ensure you get the most out of your repair service. That's where we at Mix Repairs shine. When you book your domestic appliance repair electrician with us, you are choosing a trusted household name for appliance repairs in the area. Your local electrician can help diagnose and repair a wide range of electrical problems related to your appliances, irrespective of brands. In fact, we have an extensive portfolio of appliance manufacturers in our portfolio, including LG, Elica, Miele, Electrolux, Beko, Bosch, Baumatic, Samsung and more.
Dishwasher repairs
Washing machine and washer-dryer  repairs
Tumble dryer repairs
Electric oven, hobs and cooker repairs
Fridge freezer repairs
No one understands better than we do how frustrating and challenging a broken appliance can be. From piles of laundry due to a faulty washing machine or dirty dishes due to a broken dishwasher—it's a hassle that no one wants to deal with. But when you book your appliance repair service with us, you can enjoy a free quote and affordable prices in addition to a reliable and professional service that's carried out by one of our trusted and experienced domestic appliance repair electricians. Book your service with us today and enjoy a six-month guarantee as our commitment to a quality service to you!
Mix Repairs knows how important it is to you to keep your appliances in working order. That's why Mix Repairs responds to your call for help quickly and efficiently with same or next day appointment. We have built a reputation for providing the highest level of customer care, and our staffs are all trained and fully informed of all new products that become available. Mix Repairs engineers in Dartford are highly trained and fully qualified to repair all makes and models.
High-quality local washing machine repairs in Dartford with a guarantee
We all know how frustrating a broken or faulty washing machine can be. It leads to piles of dirty laundry building up and no clean clothes to wear. While this may put a temporary spanner in the works, you don't have to worry. That's because at Mix Repairs, we can help. As a trusted household name for local washing machine repairs in Dartford, you will never have to worry about the quality of our workmanship. 
The reason for this is our quality six-month guarantee to you that your washer will operate optimally once again. And if you need to book tumble dryer repairs, we can help as well. We have an extensive portfolio of appliances that we can repair, including multiple global manufacturers. In addition to this, we are trusted by these brands to carry out flawless repairs on their appliances and that means you can rely on us, too.
Whether you need Samsung washing machine repairs or any other brand, make or model, count on us! With us, you get a free quote, affordable repairs, a guaranteed and insured service and local engineers who are close to you and who take pride in the quality of their workmanship. For accurate diagnostics and local washing machine repairs, let us be your go-to partner to ensure that you can fully enjoy the restored functionality of your appliances.
Fully Qualified Engineers
Team of fully qualified and regularly trained engineers
Local Engineers
Local based engineers with fully equipped Vans
Same and Next Day Appointments
We have available slots in South East London and we can be with you on same day
6 Months Guarantee
All our repairs come as standard with our six months parts and labour guarantee.
Fully Guaranteed & Insured
We are fully insured for public liability an employer's liability
Affordable Prices
Unbeatable price list designed for all customer needs
Dishwasher repairs in Dartford carried out by expert technicians
Is your trusted dishwasher not working as it should? Are you left with dirty dishes that are piling up? We are certain that the last thing you want to do is wash them the old fashioned way. And that's why we're here to help with your dishwasher repairs. Your assigned Mix Repairs technician is a highly skilled, reliable and professional specialist who is highly knowledgeable and experienced in domestic appliance repairs, including dishwashers. That's why when you're ready to book your specialist for dishwasher repairs, you can always count on us for a high-quality, thorough job. 
As your reliable Samsung dishwasher repair specialist, and specialists in repairing many other appliance brands, we provide you with a comprehensive service that gives you greater peace of mind. Whether your dishwasher is experiencing electrical problems or the fault lies somewhere else, your Mix Repairs technician can help with accurate diagnostics and thorough troubleshooting for your satisfaction guaranteed. With us, you can rest assured that your appliance will work optimally once again due to our six-month guarantee and insured service.
So, don't hesitate and get in touch with us for your dishwasher repairs in Dartford today. We look forward to being of service to you and are happy to answer any questions you may have.
Hassle-free electric oven and cooker repairs in Dartford trusted by manufacturers
Faults with electric ovens and cookers can pose a safety risk in your home. To ensure that you avoid any of these potential problems, you need swift and effective electric oven and cooker repairs. With Mix Repairs, you can always count on us to help! As your trusted and local appliance repair service partner, with us, you can book your same-day or next-day appointment in no time. Perfect for emergency repairs, you can also take advantage of our regular weekday slots to suit your schedule and plans.
When you choose us, you will be assigned a Mix Repairs electric appliance repair specialist to carry out a thorough and accurate diagnostics and repair service. These technicians are renowned for their quality workmanship and attention to detail. And that's just one of the reasons why we are considered a trusted household name for appliance repairs. But that's not all. Our insured service is not only backed by a six-month guarantee but it is trusted by manufacturers as well. This means your electric oven and cooker repairs are in excellent hands as their restored functionality will give you greater peace of mind.
It doesn't matter if it's your oven or cooker that's giving you hassles or you need fridge freezer repair in Dartford, count on us and our experienced professionals to help!