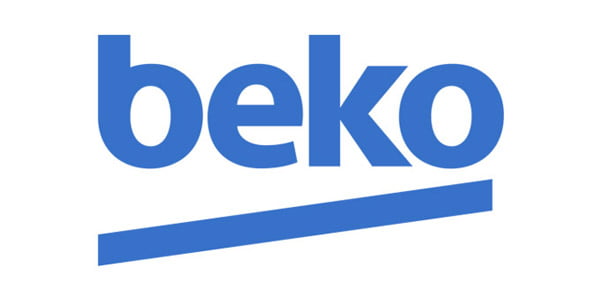 When your Beko dishwasher is experiencing problems there's a test cycle you can run which may help you troubleshoot the fault. As it runs through the cycle the appliance will follow a sequence and stop at any point that it detects a problem and display a relevant code. These codes are explained later on.
To start the test cycle you simply:
Switch off the dishwasher

Press and hold down the start button for three seconds – all the control panel lights should flash

If the fault has been detected the error code will be displayed, if not you'll need to press the start button to run the test cycle
Beko dishwasher error codes
Fault or error codes are indicated on a digital display on the LED or LCD panel on the dishwasher door. These are simply diagnostic aids to identifying the nature of the fault, even if you can't fix it yourself. Beko dishwasher fault codes are listed below:
H2 – turbidity sensor error – this is the sump that detects detergent presence.
H3 – diverter valve position error – this is the valve that controls water flow to the top and bottom spray arms individually or at the same time.
H4 – NTC error – meaning the temperature sensor can't be read by the dishwasher.
H5 – water inlet error – indicating a malfunction of the water inlet valve or of the triac on the electronic board.
H6 – water inlet fault – the dishwasher can't detect water and fails to fill.
H7 – heating fault – heat can't be detected by the dishwasher so the correct temperature isn't reached.
Beko dishwasher error lights
Depending on your model your Beko dishwasher may display error lights rather than numbers. These are shown here:
No lights lit

 – no power or no faults detected

First light lit

 – dishwasher not filling sufficiently before the timeout

Second light lit –

inlet valve or water sensor error

Third light lit

 – water temperature sensor error

First and second lights lit

 – heating element fault
Beko dishwasher troubleshooting
A range of Beko dishwasher problems and troubleshooting are shown below:
Beko dishwasher not filling with water
When this happens, it could be related to water pressure that's too low – it ideally should be between 0.3 and 10 bar. Alternatively, it may be that the inlet hose is kinked or damaged in some way. It can also indicate a problem with the float switch which monitors water levels.
If there's no water at all this could be related to the water supply or the water inlet valve. Leaks and door closing issues will also affect the ability of the dishwasher to fill.
Beko dishwasher not starting
Beko dishwasher problems can include the dishwasher not starting. This may be that the appliance has detected that the door isn't closed securely – the latch or switch could be broken.
See other Beko dishwasher common faults here…
Beko dishwasher not washing
When your appliance isn't cleaning properly there may be a problem with the spray arms. The filters could be blocked, or the nozzles obstructed in some way. Other simpler explanations include not loading the dishwasher correctly, or selecting a wash programme that's unsuitable for the level of soiling.
Beko dishwasher not working
Common Beko dishwasher faults relate to the appliance not working at all. Operating the test cycle, as shown above, may help you identify any issues but you may need an experienced engineer to fix them for you.
If there's no power this would indicate a problem with the incoming supply, a faulty socket or plug, a blown fuse, or more complex issues which need expert attention.
Need help with Beko dishwasher troubleshooting?
You'll get all the advice and assistance you need from Beko dishwasher repair London specialists. Request a quick quote, book a convenient slot, and get your repairs carried out by fully qualified engineers. And all repairs come with a six months parts and labour guarantee.
Beko Dishwasher Problems And Troubleshooting
was last modified:
May 31st, 2023
by
26th April 2021
Categories: