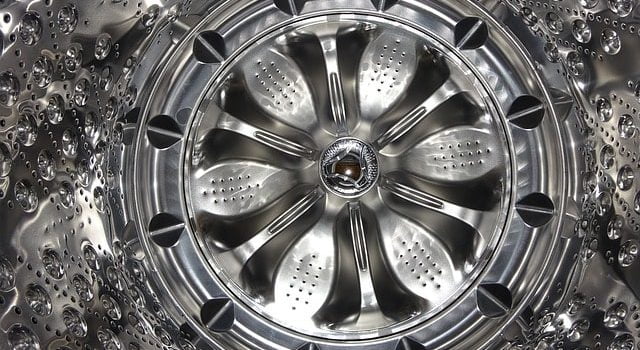 Got a Zanussi washing machine? It's always good to know what to do when your appliance doesn't operate as it should. 
Zanussi washing machine fault finding step by step is shown below…
Zanussi washing machine problems
Zanussi washing machine filter problems
When the filter is blocked it affects the washing machine's efficiency and can lead to lint deposits on clothing as well as drainage issues. It's essential that the filter is kept clean to avoid breakdowns due to accumulated debris, and the procedure should be carried out every three months.
Zanussi washing machine spinning problems
If an uneven load isn't the issue here you may find that the drainage hose has become blocked and your appliance simply won't spin until the water has been drained. The water level control may be faulty, or the valve may have become corroded and will need replacing.
Zanussi washing machine fault finding
Error codes on your Zanussi washing machine are shown by an LCD display with a letter followed by two numbers or a combination of flashing LEDs. These fault codes may differ depending on the model of your appliance so you may have to look at your user manual for confirmation.

Zanussi washing machine fault codes
Error code E20/21/23/24
E2 error codes relate to washing machine drainage problems. These can be due to obstructions in the filter or pump, or a defective drain pump itself. Wiring and connections will need to be inspected alongside pipes under the sink which can lead to drainage issues.
Error code E10/E11
This signifies that your washing machine is unable to fill with water. Checks will need to be made on the water supply inlet valves and the hoses to ensure that they're not kinked or obstructed. Your water supply may also be the culprit here.
Error code E13
This indicates a leak from your appliance and the cause will need to be determined. Water from the base of your washing machine will have to be removed and the leak professionally fixed. Your Zanussi washing machine may have a water leak detection system which will come into play.
Error code E40/E41/E42/E43/E44/E45
Error codes beginning with E4 are associated with a problem relating to the door lock. The door lock itself, the wiring, and the connections will all need to be checked. As will the connections between the door and the control panel
Error code E51/E52/E53/E54
E5 Zanussi washing machine error codes relate to faults with the motor. The part of the motor control board that controls the spinning speed may have failed, or there is power coming to your machine when it should be inactive. The control board may need to be replaced.
Error code E61/E62/E66/E71
E6 and E7 error codes are problems with the heating system and components that need to be checked include the heating element, temperature sensor, wiring and connections. Overheating may be due to a faulty control panel.
Error code E82/E83/E93/E94/E95/E96/E97
E8 ad E9 error codes indicate an issue with the main control board and as modules are configured using a combination of release buttons this will need an experienced repair technician to resolve it for you.
Error code EH0
This error code is telling you that the power supply is unstable and you should get assistance from a qualified electrical engineer.
Zanussi washing machine repairs
Need a Zanussi washing machine repair in London? Get a quick quote from trusted appliance repairers and book a convenient slot! There's no call out charge and no deposit required, and every repair will come with a six months quality guarantee.
Zanussi Washing Machine Fault Finding Step By Step
was last modified:
May 31st, 2023
by
28th December 2022
Categories: