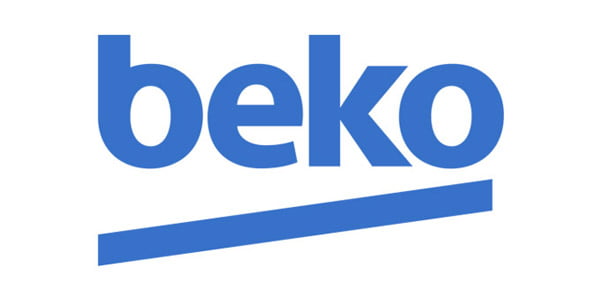 Beko washing machines have many helpful features to help save time and money such as the Daily Quick programme which washes a full load in less than 30 minutes and AquaTech technology that delivers quicker, gentler washes by replacing vigorous drum movements with water power.
But as with all automation problems will always occur, but luckily the Beko washing machine error code system is simple to understand with numbers that go from E1 to E18. On some older models, Beko washing machine error code F11 may display which is an indication of a communication problem between control boards.
Beko washing machine error codes
E1
Error E1 means that there could be an issue with the wiring or the thermistor identified by the NTC sensor that connects to the heater element.
E2
A problem with the heater is being detected here with water not heating properly and this could be a wiring issue or a defective heater.
E3
This is a problem with the heater indicating that there's a constant stream of heat and is again a wiring issue or a faulty control relay to the heater.
E4
When your appliance can't fill this error code will display caused by problems with the water inlet valve, the door not securing properly, or a faulty printed circuit board (PCB).
E5
Beko washing machine error code E05 indicates that your appliance is unable to drain which may be related to an obstruction in the pump filter or drain hose, or a defective drain pump.
E6
This error code means that there's a fault with the motor resulting in your appliance not being able to complete its cycle. The fault could lie with the motor mechanism, the wiring, or the PCB.
E7
If your washing machine is experiencing a problem with the level sensor this code will display. It can cause your appliance to empty near the beginning of the cycle or not even start a cycle at all.
E8
Beko washing machine error code E08 is typically related to not filling with water and can be caused by a faulty water valve, a problem with the antiflooding mechanism, or issues with wiring or the PCB.
E9
When problems occur with the door lock error E9 will show. This could be the lock itself, or the electronics that operate the lock. Alternatively, it could be a PCB issue.
E10
This code will display when your washing machine is detecting that the door is jammed. It may be due to a broken lock or latch, or a problem with the electrics.
E11
Beko washing machine error code E11 is indicating that there's a problem with the motor which could be quite complex and related to wiring, the PCB, or the motor itself.
E17
If your washing machine detects that there's an excess amount of foam detected in your washing machine this error code will display. Running additional rinse cycles may help to clear the foam and to stop this from happening in the future change to a recommended detergent and use the specified quantity.
E18
When an unbalanced load has been identified your washing machine may stop during the spin cycle. Reloading your appliance and then restarting should solve this problem.
Experiencing Beko washing machine problems?
For any of the faults listed above, you may be able to identify where the issue lies but be unable to fix it yourself. That's the time to call in the experts! You can book your repair online with trusted appliance repair technicians and get a quick quote upfront before your service starts. You'll soon have your washing machine up and running, and you'll get a six months parts and labour guarantee.
Beko Washing Machine Error Codes And Troubleshooting Tips
was last modified:
May 31st, 2023
by
15th February 2022
Categories: