LG is a globally renowned brand, known for the quality of its appliances and products. One such appliance is the LG direct drive washing machine. Designed to have both a longer lifespan and utility as well as an affordable price, it's an important market leader in the washing machine segment. However, if you start experiencing some LG direct drive washing machine problems, it's important to first identify the main issue behind the problem before you can go about having it repaired. This is why we've prepared this guide to help you determine where the fault may lie and what should be done to resolve it.
LG direct drive washing machine troubleshooting 
There are several common issues that may occur with your washer and this will require LG washing machine troubleshooting. Take a look at some of these as well as what can be done about them. 
The washer won't start:

ranging from the super easy to the more difficult, there are many possible reasons your LG washing machine will not start. As a starting point, you should check that the door is closed tightly. You should hear a click locking in place after you close the door. If this is not the case, then your LG washing machine is not likely to start without a properly closed door. A second option to look out for is checking your sockets and the electrical supply to your washer. If the voltage from the washer is too low, the machine will not start. Try to plug the washing machine into another outlet and see if that resolves the issue. Thirdly, you may want to check whether the power cord has any visible damage. If so, you may need to have the cord replaced. A fourth reason is that water is not getting into the machine. This could be because there's no water supply. You can simply turn the stop valve to the open position. Finally, the wiring of the washing machine should be checked. However, for this step, it's highly recommended that you speak to a professional to take a look and attend to the right repairs, if necessary. 
The washing machine is filling with water but the wash cycle will not begin:

a major reason for this situation is due to a faulty heater. When the water is not heated, the heat will not be detected in the machine and it will consequently not start. You can run a cold wash cycle as an alternative until the necessary repair work is done. Such work could include replacing a faulty pressure switch or thermistor, replacing various elements, a faulty main module or a faulty motor. 
The water flow is too slow or non-existent:

some of the most basic steps you can take to resolve this issue include checking that the stop valve is open to its full capacity and checking the inlet hose for bends, clogs or kinks. It's also possible that the filter screen is blocked with debris that has collected over several cycles. You'll need to remove, clean this and replace it. Other more serious causes could include a malfunctioning intake valve, which may need to be replaced as it could be worn out. A further issue is a potentially broken pressure switch. 
The washing machine is emitting clicking and rattling noises:

the two main potential reasons for this issue include a wash load that is too low in weight or a more serious issue that involves worn bearings. The latter will require serious repair work and the complete disassembly of the washing machine. 
The washing machine is failing to drain the water in it:

for this to occur, you may have selected the wrong wash cycle, there may be a clog in the drainage system or the drain pump may need to be checked. For the latter, it's advisable to contact a specialist.
Your LG washing machine's door will not open:

this is likely caused by some quantity of water remaining in the tub. You should consider manually removing the water using the drain filter. Also, always ensure that the full wash cycle is complete before attempting to open the door. Furthermore, you may be facing an issue with a malfunctioning of the door locking assembly or a problem with the control module.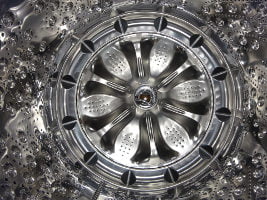 Encountering some LG washing machine issues?
You don't need to panic when your LG washer is not working. There are several minor troubleshooting steps you can take yourself to resolve some of the issues. For more major repair work, it's always advisable to entrust the work to a reliable professional. And here at MIX Repairs, we guarantee the professionalism of our technicians. They are trustworthy, courteous, on time and work efficiently to give you the best results. Get in touch with us to see how we can help resolve your LG washing machine issues quickly and effectively.  
LG Direct Drive Washing Machine Issues – Troubleshooting and More
was last modified:
May 31st, 2023
by
6th November 2022
Categories: