Getting the right dishwasher for your needs will drastically reduce the time you spend in the kitchen – as well as saving you space. You'll need to think about your budget and decide what features you want to look out for. There are hundreds of models available so take a look at semi or fully integrated dishwashers – which one is right for you here…
Integrated Dishwashers
An integrated dishwasher is also known as a built-in or built-under dishwasher – and is designed to match your kitchen. It'll fit beneath your countertop and is covered by a cupboard door – making your fronts all look the same. This is the ultimate in kitchen customisation as all components are seamlessly hidden within the cabinetry.
You'll need to have this type of dishwasher professionally installed as custom-made panel, hinges, and hardware will be used to ensure your kitchen will be truly high-end. The control panel is located along the top edge of the door – and sounds and lights will inform you when the dishwasher has reached the end of the cleaning cycle.
Semi-Integrated Dishwashers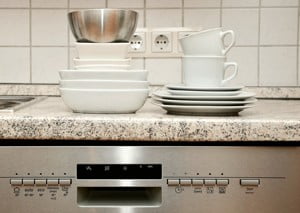 What is a semi-integrated dishwasher? This frequently asked question can be answered simply – the appliance fits flush to the cabinets and countertops but you can still see the venting, handles, and hinges, and in most cases a metal trim. They provide additional customisation features and are a great option for limited space.
These models come between a fully integrated and freestanding option – and you can access the control panel and see the display while the door is closed. Some models have their own front panel rather than being covered by a cabinet door.
Features to Look For
Before you install a new dishwasher you need to make sure you're getting the right one for your home. Remember it's a good idea to read current reviews before you make your purchase. There are a few key features which you may find really useful and these include:
Adjustable racks – these can be changed by height adjusters with quick release clips on either side – you'll be able to lower or raise the height to fit in larger items.
Large spray heads – removing the lower spray arm and attaching a large spray head allows you to clean really dirty items such as roasting trays – the water will be concentrated in one direction.
Fold-down prongs – look for them in both the upper and lower racks as this will make loading large items so much easier
Sensor wash – frequently found on more expensive models this feature calculates how dirty the water is and adjusts the temperature and the length of the wash accordingly
Delay start – with a delay timer you can make use of cheaper night-time electricity as you can set the dishwasher hours before you want the wash programme to start – or time it so the plates are warm for dinner
Anti-flood protection – float switches will detect water in the base of the machine and prevent it from further filling, and aqua stops prevent flooding if the hose that fills the dishwasher splits or leaks
Child-safety lock – keeping the programme settings from being changed while the dishwasher is in use is a handy feature when you have small children
Dishwasher Repairs
It's always useful to have a contact for when your appliance isn't working properly – Mix Repairs will provide you with affordable prices and a six-month guarantee. A team of fully qualified and highly trained engineers are standing by ready to help – all you need to do is set up your appointment and get you a free quote.
Semi Or Fully Integrated Dishwasher – Which One Is Right For You?
was last modified:
May 31st, 2023
by
17th August 2018
Categories: